As the business of plumbing continues to become more competitive, the need for having an SEO-ready plumbing website has increased. With a website, you will be able to offer your customers all of the information they need about your company and their service.
It's also easier than ever to generate leads online because people can find you through search engines and social media platforms like Facebook and Instagram.
Word of mouth is an important part of any business, but it's not always easy to get good reviews. Businesses are now looking for more visibility and credibility on Yelp and Google, so they need to invest in SEO.
While it's difficult to grow your business without organic search traffic, SEO can be a constant struggle. This is where content marketing becomes a key step, you need to create quality content that is going to bring you the traffic.
How does SEO work for plumbing Businesses?
SEO is the practice of optimizing a website or a web page to rank higher in search engine results. It is an essential part of the digital marketing strategy for any business. The idea is to make your plumbing business website rank or appear for several keywords relevant to your industry or business.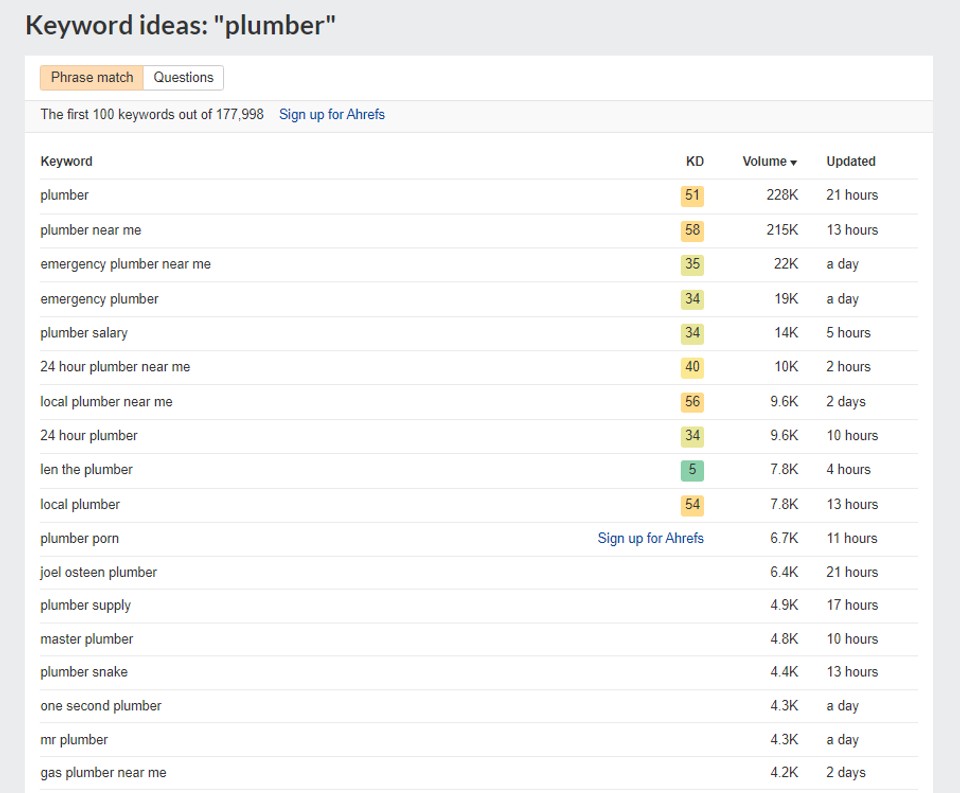 There are many ways of ranking for specific keywords in search engines, but the most effective way is by using SEO techniques like keyword research, on-page optimization, link building and content marketing.
Best Approach to Plumbing SEO Explained?
Site Structure
A fast secure web is a web that is well coded and optimized for performance. It means that the website code is clear and easy to read. The site structure is organized in such a way that you can find exactly what you are looking for without having to search around.
On-Page SEO
On-page SEO can help increase organic reach and site traffic by optimizing content for search engines. This includes writing unique and well optimized content that is relevant to what you're trying to achieve.
A variety of elements such as keyword density, title tags, meta descriptions, URLs, headers, etc. These elements make up the foundation for an optimized website.
Off-Page SEO
It is important to get high-quality backlinks from authoritative and relevant plumbing websites. These links have a positive impact on your ranking on Google My Business. Five-star reviews are also good for your business as they increase the number of local visitors on your website.
Why is SEO important for Plumbing services?
Plumbing services are in high demand, most homeowners will just search online for things like 'plumbers near me' or plumbing service near me', so it's important for your company to have a strong online presence. To be successful in the industry, your company should focus on SEO.
BEST SEO tips for Plumbers
Below are some recommended tips to enhance your Plumbing SEO:
#1. Facelift and quick loading web pages
The internet is the most effective platform for marketing and advertising. In order to make sure that your website is professional and optimized, you need to make sure that it has all the right keywords in the right places.
In addition to that, you need to make sure that your website loads quickly so people can easily access your content. This will also increase your search engine ranking. You should go with a web hosting
If you don't have a website or your current website is outdate, you should consider a face lift. You can use the service of a professional web design agency to redesign your plumbing website for better web positioning.
Make sure your new website is built with user experience and speed loading pages in mind.
#2. Competitive analysis
A competitive analysis is a process that helps identify your competition, find potential opportunities, and understand the market.
The first step in any SEO campaign is competitor analysis. You need to identify your competitors in order to know what they are doing right and where you can improve your own content.
Keyword research is a vital part of an SEO campaign. It's important to be aware of the keywords people are searching for, so that you can create content that is relevant to those searches.
You can use digital marketing tools such as Google Keyword Planner, Ahref, SEMRush etc to find mine data about your competitors.
#3. Code and Content Page Optimization
The first thing that you should do is make sure that your page titles and meta descriptions are relevant and descriptive.
This will help with keyword ranking as well as increase click-through rates .The second thing you should do is make sure to optimize your website.
This includes writing unique content around the discovered keywords in above step.
#4. Local SEO
Local SEO is a type of SEO that focuses on the geographic location of a website. This is different from the traditional search engine optimization.
To do local SEO, you need to focus on your target audience and make sure that your website is relevant for them. You can also use content marketing strategies to create content that is focused on your target audience. These strategies will help you get found in search engines and provide a better user experience overall.
The main goal of local SEO is finding ways to rank higher in search engine results pages (SERPs) when people are searching for specific keywords related to the business's location or industry.
#5. Track your SEO Results
SEO is a complex and multifaceted process. It is hard to keep track of your SEO performance without the right tools. Google Search Console provides comprehensive information about your website's performance in search engines like Google, YouTube, Bing and Yahoo.
You can also analyze your website's organic traffic performance in Google Analytics or view historical data in Google Trends.
The first step towards improving your SEO performance is to set up a web crawler account with the Search Console API so that you can access the data about your website's ranking for specific keywords on a daily basis.